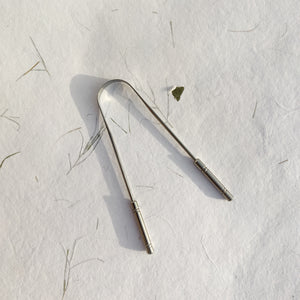 The tongue cleaner is best to clean and scrape your tongue. This No Plastic Copper Tongue Scraper is made with naturally antimicrobial 100% plastic-free packaging.
Made from 304-grade stainless steel 

Non-toxic and Sterilization 

Comfort Grip 

Flexible, non-gagging design with optimal length 

Enables cleaning of the entire tongue length Suitable tool for plaque removal, bad breath and to restore oral hygiene or taste sensation
Size: Approx 5.5 inches/13.5 cm tall.
Made in India.