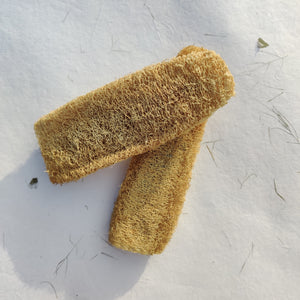 What's a loofah?
Loofah is a plant-based sponge that grows on vines in subtropical climates. When it's ready for harvest the fruit is dried, peeled, and deseeded and the insides are the as a loofah sponge.
The sponges that are mostly available in the markets are made of polyester or nylon. Regular sponge materials are neither recyclable nor biodegradable and are made from non-renewables such as oil and gas. Those sponges have a huge carbon footprint. Instead of contributing sponges to your landfill every year switch to natural loofah! Our 100% natural loofah is a great exfoliator for the skin and a great alternative to the plastic options available in the market.

Our loofahs are unbleached, so they may appear off-white, and they are 15cm long or more. To save space and reduce your postage costs, we send the loofahs flat - they will inflate to full size (as in the photos) upon contact with water.

How to use: Just wet the loofah and apply your favorite body wash/soap and rub in a circular motion to help exfoliate your skin and improve blood circulation.

Responsible disposal: Once the sponge has reached the end of its life, you can safely compost it, or dispose of it with the confidence that it will biodegrade (and not sit in the landfill for decades like so many plastic shower puffs).